In today's edition of Not Sold Here, we are featuring the Honda Beat. The Beat is a special class of super small vehicles for which there is no equivalent in the United States. Smaller than a subcompact, these cars are often called "kei cars" in Japan. I featured another Japanese vehicle, the Subaru Microvan, a few years ago. The difference is that the Subaru was actually imported to the U.S. while the Honda Beat was not.
I ran across this Honda Beat at the monthly Cars and Coffee gathering in Scottsdale. It is unbelievably small in person. Although it's hard to visualize, the Honda Beat is nearly 10 inches narrower and 400 lbs lighter than the original Mazda Miata. It really is like a street legal go-kart.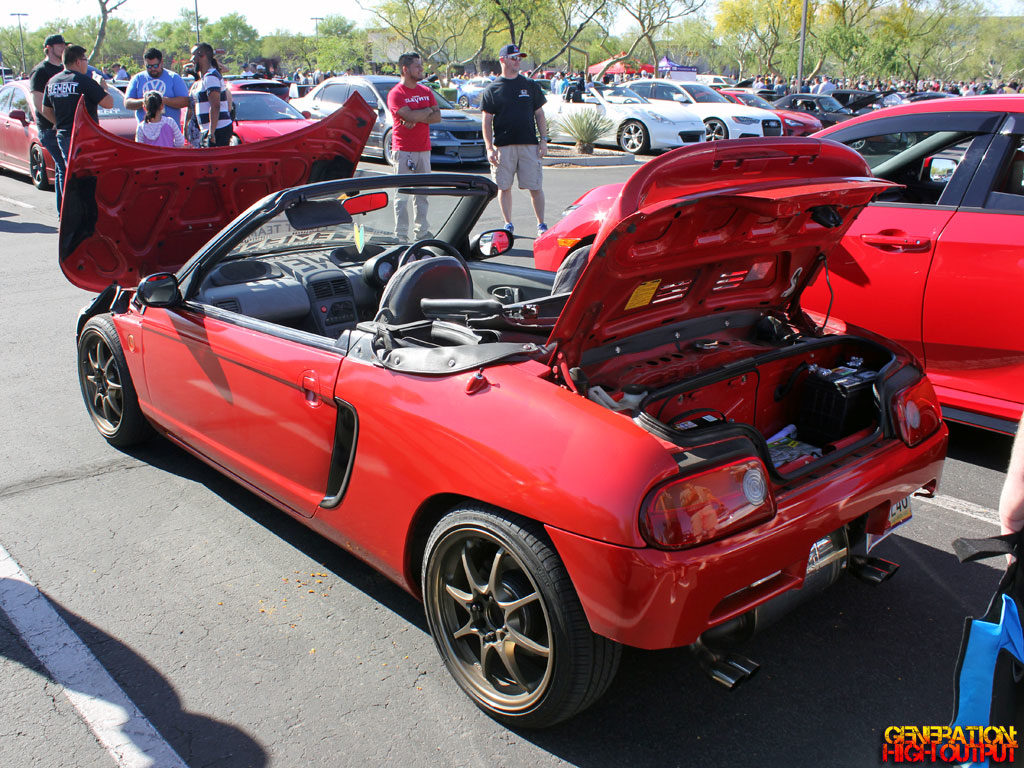 The philosophy behind these kei cars is to have small, efficient transportation for the narrow streets and crowded cities of Japan. As such, they were not designed to be particularly sporty. The inline 3-cylinder engine displaces 656 cc (40.0 cubic inches) and puts out a whopping 63 horsepower. The Honda Beat was only available with a 5-speed manual transmission.
There is a law in the United States that allows vehicles 25 years or older to be imported and driven on the roads, even though the vehicles do not meet US Federal crash test standards. This "show and display" law is the reason why you might be seeing more R32 Skylines and other right-hand drive Japanese vehicles at your favorite car shows. It is very likely that this Honda was imported under that same law.
About 34,000 of these cars were built during the production run from 1991 to 1996. It is unknown how many of them have made it to the U.S., but I'm certain the number is quite small. The car drew a huge number of curious onlookers at the show – much more than some of the brand new exotics and supercars that cost many times what this vehicle is worth.
This is a very unique car and I'm glad to have run across it at the Saturday Motorsports Gathering put on by Scuderia Southwest.
---