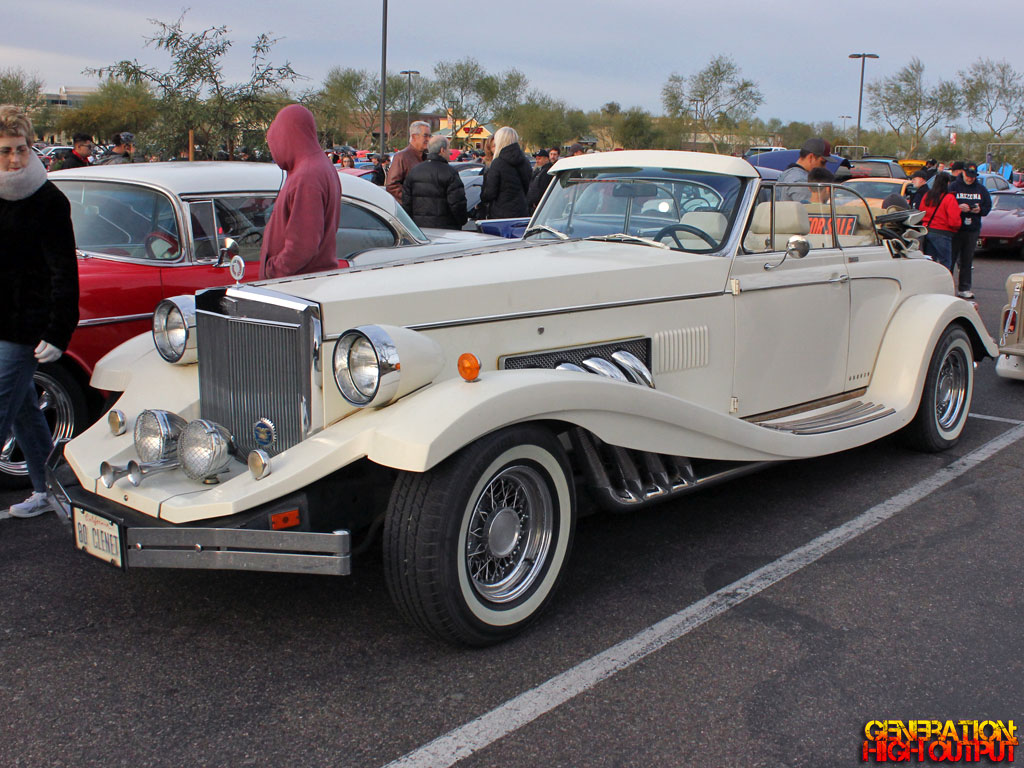 As I've said in previous articles, I never set out to become an expert on Neoclassic automobiles – but I keep finding them at car shows, and people keep reading these posts, so I guess I'll go with it. Having written about nearly every other Neoclassic car manufacturer, it was only a matter of time until I came across a Clénet. Well, it finally happened in early 2019 at my local Cars and Coffee gathering in Scottsdale, Arizona. I came across this 1980 Clénet Series II cabriolet and quickly found that it was different from other neoclassic cars I had seen in the past.
Clénet Coachworks was established in 1975 in Santa Barbara, California by Alain Clénet. Their first car was a 1930s styled roadster called the Series I. The company built 250 of the Series I cars from 1977-79, before moving on to the Series II. Just 187 of the Series II cars were produced – this one is #98.
While many other neoclassic companies had "kit car" build quality, Clénet stood out by offering a true luxury car. These cars were built in a large factory by skilled craftsmen. The cars featured steel bodies instead of fiberglass. The interiors were well-equipped with Italian walnut wood on the dashboard, lambswool floor mats, etched crystal hood ornament, and a Waterford crystal ash tray. According to the website ClenetClub.com "The base price of the Series II started at $59,900 in 1979 and reached $102,500 by the end of production in 1987." This car has a full complement of VDO gauges.

Like pretty much every other niche/boutique auto manufacturer, Clénet Coachworks ran into financial trouble in the 1980s and filed for bankruptcy. The company was purchased by Sir Alfred J. DiMora, and continued production through 1987 when the plant finally closed. By the end, the Clénet company had built a total of 517 vehicles during their 12-year existence.
Clénet automobiles hold their value pretty well compared to other neoclassic cars. Most of the information about them comes from DiMora Motor Car and the ClenetClub.com site, which offers a wealth of information for owners of these cars. Most of the ones I have seen advertised for sale online are equipped with Ford V8 engines and automatic transmissions, meaning that replacement powertrain parts should be no trouble to source.
If your garage isn't complete without a neoclassic automobile, a Clénet would certainly be a fine choice to add to your collection.
---