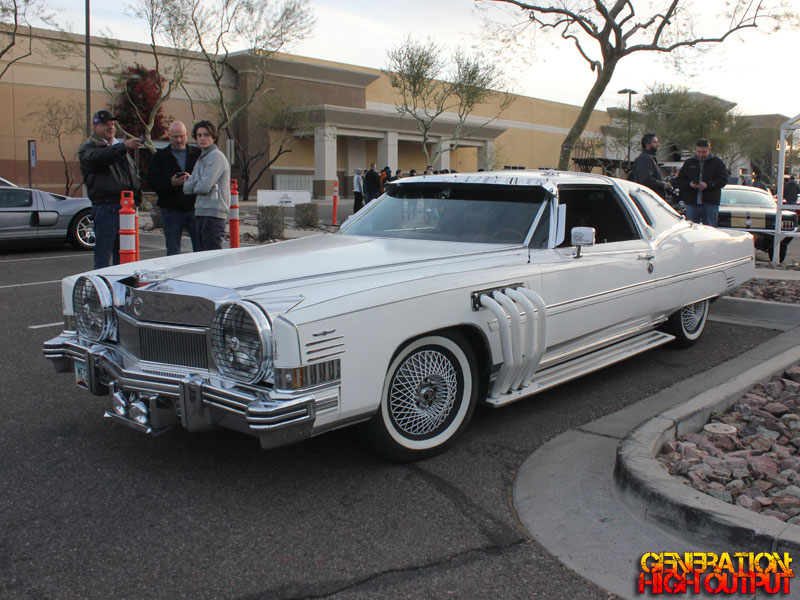 The 1970s were truly a decade of excess. I have chronicled this in previous posts such as the Custom Cloud and the 1970's revival of the Stutz Blackhawk. This decade was also a popular time for neo-classic automobiles, which I have also written about extensively for this site. Today we feature another artifact of this decade that I recently came across at a car show: the Cadillac El Clasico.
It's hard not to use terms like "pimp mobile" or "pimp car" when admiring this vehicle, as it certainly looks like the product of one person with too much money and questionable taste. However, these cars were actually converted in small numbers by Wisco Corp., a coachbuilder formerly located in Roseville, Michigan. One source I read said that approximately 100 vehicles were given the "El Clasico" treatment, though I was unable to verify this.
Wisco took a car that was already a standard of luxury and prestige and just added MORE to it. More chrome, more trim, more everything. The car's exterior is extremely busy. Most notable are the completely unnecessary exhaust header extensions that exit through the front fenders and pass through the running boards to the rear of the vehicle. The hood was not open on this car, so I could not verify if they were functional or simply a decoration.
Up at the front, an oversize waterfall grille and hood ornament are all done in chrome. The standard headlights are shrouded by oversize covers that resemble a 1920s car. A pair of fog lights were also added. Again, "more is more" was the mantra here.
With so much chrome, the fixed exterior windshield visor was probably a necessity to prevent the driver being blinded by the glare of his own vehicle.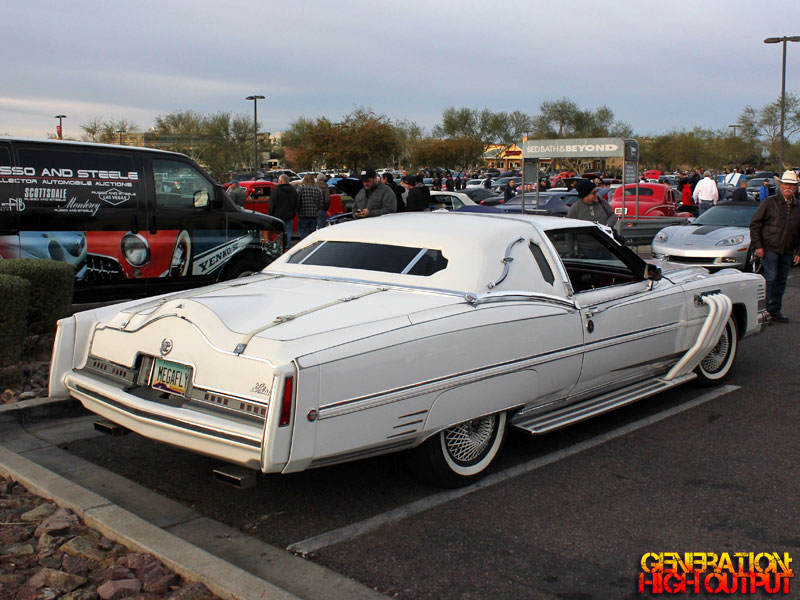 From the rear, the car has a vinyl roof with a Landau bar, and miles of chrome trim adorning the body lines, window trim, and just generally stuck on all over the place – such as behind the rear wheel arches. It has running boards, similar to those found on full size vans. It has decorative trunk straps similar to the Excalibur, though these are not functional. The car sports dual exhaust with horizontal tips. The wheels are quite unusual and I don't know how to describe them other than white wire wheels.
Interestingly, this car does not have a Continental Kit at the rear, which would have involved relocating the license plate. It also does not have spare wheels mounted on the fenders, another common feature on neoclassic cars.
The interior is actually the most tasteful part of this car. It seems to have been updated with a leather trimmed center console integrating an iPad. The dark red and black leather upholstery looks right at home with the 1970s era wood. I would have expected this car to have swivel seats and an all white leather interior!
A brand-new 1972 Cadillac ElDorado 2-door hardtop coupe would have cost about $7,360 when new. The Wisco conversion added about $3,630 to the price, for a total of $10,990 in 1972 dollars. Adjusted for inflation, this car would cost the equivalent of $66,705 in 2018.
There's not a ton of information about Wisco or these El Clasico Cadillac conversions online, so if you have any information, please do share it with us!