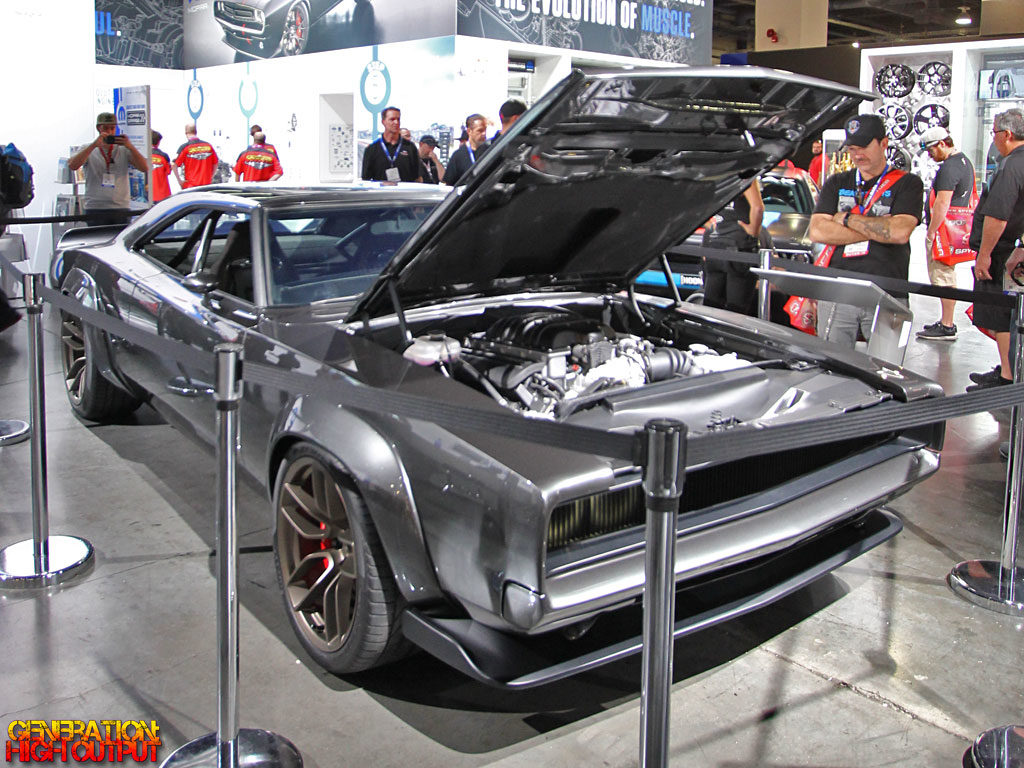 From the time the Dodge Challenger revival was confirmed in 2006, Dodge has been on a roll with their high-performance enthusiast vehicles. When the third-generation Challenger made its debut in 2008, the 6.1L (372) SRT8 model put out a healthy 425 horsepower.
Dodge bumped it up again in 2011, when the Challenger SRT8 received a new 6.4L (392) HEMI V8 making 470 horses. In 2014, Dodge stunned the automotive world when they introduced the Hellcat with its 6.2L (376) HEMI making a staggering 707 horsepower – the most powerful production engine in a muscle car at that time. In 2017, the bar was raised yet again with the announcement of the SRT Demon, a supercharged version featuring an eye-popping 808 horsepower on 91 octane gas, or 840 horsepower on 100-octane.
How much further can they go? Well at SEMA 2018, we got an answer. Mopar fans were delighted to hear about Chrysler's latest creation: a supercharged, all aluminum 7.0-liter (426 cubic inch) HEMI crate engine. The "Hellephant" as it is nicknamed, will produce 1,000 horsepower and 950 lb-ft of torque. It is far and away the most powerful crate engine ever offered by an OEM.
To promote the new engine, Chrysler's Product Design Office (PDO) came up with the idea of installing the engine into a classic 1968 Dodge Charger. The "Super Charger" is equipped with a stock T-6060 six-speed manual transmission, along with a number of custom touches.
"De Grigio" Grey Metallic paint
Brembo six-piston disc brakes
Side mirrors from a 1971 Duster
5-inch exhaust tips borrowed from the Alfa Romeo Stelvio
Dodge Viper steering wheel
Dodge Viper seats, wrapped in Alcantara with red stitching
Sabelt four-point racing harnesses
Custom roll cage with 2-inch diameter tube
Rear seat delete
LED brake lights
20×11″ front wheels, 21×12″ custom rear wheels
lowered 3.5 inches in front, 2.5 inches in rear
shaved door handles, drip rails, trunk lock
Pricing for the Hellephant engine was not announced, though it will likely be more than the $19,530 price tag for the Hellcat crate engine. It is expected to be available for sale in early 2019.
Part Number Reference:
Interior
Fuel Level, Full Sweep, Electronic 2 1/16″, Black Dial – 77060043
Oil Pressure, Short Sweep, Electronic 2 1/16″, Range 0-100 psi, Black Dial – 77060045
Speedometer, In-Dash, Full Sweep, Electronic 3 3/8″, Range 0-160 mph, Black Dial – 77060055
Voltmeter, Short Sweep, Electronic, 2 1/16″, Range 8-18 volts, White Dial – 77060050
Tachometer, In-Dash, Full Sweep, Electronic 3 3/8″, Range 0-10,000 rpm, Black Dial – 77060057
Water Temperature
Performance/Engine
426 Supercharged Crate HEMI Engine Kit: 77072500
Hellephant 426 Supercharged Crate HEMI Engine: P5160194
6.2L EO Air Filter Element – 77072491
6.2L Supercharged Crate HEMI Engine FEAD Basics Kit (includes alternator, power steering pump, pulleys, and hardware) – 77072492